World
Jan. 6 hearings day 5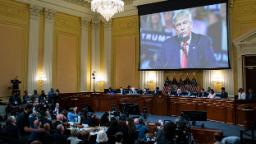 A half-century after Watergate captivated the country and ultimately led to President Richard Nixon's resignation, the remarkable revelations of the House select committee investigating the Jan. 6 insurrection are competing with other distractions in a deeply divided nation.
A new Quinnipiac University Poll found that nearly 6 in 10 Americans are following news about the work of the committee at least somewhat closely, although only about one-quarter say they are following it very closely. So far, the poll found, the hearings do not seem to be changing minds about whether Trump committed a crime, with 46% of adults saying he did and 47% saying he did not.
Mny Americans seem to have simply tuned out, with Republicans citing their disdain for the mostly Democratic makeup of the committee, lack of interest in yet another divisive act from Washington or the simple fact of being busy with summer and exhausted with politics.
"I really think they are just after Trump," said Bill Kumle, a Republican retiree in Atlanta. "They're not after the truth."
The findings — so far, at least — are largely seen through a familiar partisan lens that has dominated the Trump era.
"The committee overall is swayed more on the liberal side than the conservative side and it's not something that interests me," said George Nozick, who has been picking up bits and pieces of the hearing through news accounts. "With inflation, gas, the border and everything else, I choose to take it easy."
Nozick is among the Republicans in Georgia who have never believed Trump's false claims that he won the state, which is again emerging as a crucial battleground in November's midterm elections. And Nozick believes the former President crossed a line when he called Georgia Secretary of State Brad Raffensperger looking "to find 11,780 votes" to usurp the will of the voters. Republican voters in the Peach State rebuked Trump's efforts to oust Raffensperger — along with GOP Gov. Brian Kemp, who also had rebuffed Trump's entreaties to overturn the 2020 election — in primaries earlier this year.
"Our ex-President is just focused on his own wants and needs," Nozick said. "To me, that's not good. You've got to move on and accept what is and go on from there."
Even so, Nozick said he did not see the value in the committee's investigation. He said he would read its final conclusions but that he'd prefer for the country and his party to move on.
Read more on Americans' reactions to the hearings here.
Source link